Calibration Services from Ellab Ireland
It affects your bottom line. And in regulated environments it affects your ability to remain operational. At Ellab, accuracy is what we do.
We specialize in tailored onsite calibration services across Ireland. Servicing numerous sectors including Medical Device, Pharmaceutical, Dairy, Food & Beverage, Retail, and Manufacturing, the expertise of our technicians, all of whom receive extensive training, guarantees that the highest standards of quality are always met.
With calibration services from Ellab Ireland you can increase your overall productivity by reducing expensive downtime while simultaneously developing smarter, more reliable processes. We remove any uncertainty surrounding the accuracy of your processes.
With Ellab you're buying risk reduction, asset management, and regulatory compliance all in one.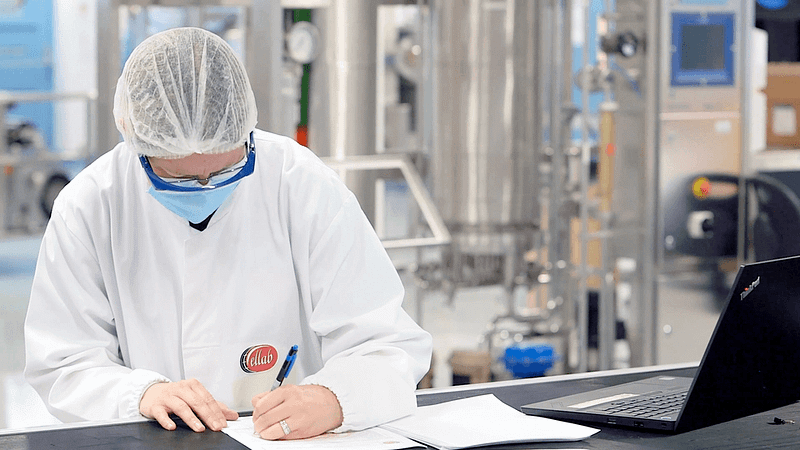 We'll provide you with all-in-one, managed onsite calibration services.
We'll work around your schedule and minimise your process downtime. Our mobile calibration service provides fast response and turnaround times.
We'll calibrate your instruments on-site but if we can't we'll get them back to you in minimal time.
We'll take care of repairing and replacing your instruments as required with minimum inconvenience to your operations. We'll manage your assets throughout their life cycle. With our Compucal Calibration Management software, we'll monitor and track management of your assets with automatic calibration scheduling. We'll make sure you never fall behind.
We'll complete all your calibrations to agreed SOP's and we'll handle and schedule specialised calibrations with external laboratories on your behalf.
We'll supply you with residential technical personnel on both short- and long-term contracts if required.
We'll make sure you're always audit ready.
We'll provide you with paperless calibration certificates created by our technicians on-site.  
We'll make sure all of your documentation is accessible online via our dedicated customer portal so you'll never need to worry about locating certs or calibration records again.
We'll commission your project. Throughout the year our engineers are engaged in commissioning instrumentation in projects both large and small. As a client, we'll make sure your new instruments and assets are optimised for maximum efficiency and reliability so that your processes run smoothly. Our technical team are, and have been, involved in commissioning projects in major plants such as Ipsen Pharmaceuticals, Mallinckrodt, Pfizer, Bristol-Myers-Squibb, and Alexion.
We'll provide you with a complete, professional temperature mapping service. If your operations include a laboratory, pharmacy, warehouse, pharmaceutical storage, hospital and/or individual chiller units, our expert knowledge of temperature monitoring means we'll take care of your thermal mapping needs.
And because we'll take care of all your onsite and in-house calibration requirements, you can focus on maximising efficiencies and processes.
"CALX provide a completely professional service and have always provided me with competent engineers, they have a support structure behind them that's first class, CALX are a new and welcomed company into an extremely demanding industry, their presence as a 100% instrument/calibration company has become a one stop shop for all my needs as an E&I lead ENG, well done guys keep up the good work."
"The service we got more than met our expectations. Your service engineer James Cullen was excellent and very patient considering the extra regulations we have introduced due to Covid"
"Good response time; fantastic knowledge of equipment; web portal is great 'filing' system to have; staff are all helpful; help with tasks outside their remit and provide solutions not just calibrations. Equipment always works correctly after they leave. Clean, tidy, respectful in their work. Good communication and organisation"
"Without exception I got quick and satisfying answers to all my requests regarding recalibration of equipment as well as any other questions."
"We have been working with Kevin Davis from CalX Instrumentation Services Ltd for a number of years and his team have always carried out our calibrations efficiently. All the engineers carry out their work in a professional manner. Tags and certs are supplied on time. Their work is 100% reliable."
"We have worked in partnership with Kevin Davis and his team for a number of years now. We have found them very professional and efficient in everything they do and have been a great partner to work with. We hope to continue our relationship with them well into the future."
"They supported us in the development of our quality system and the instrument calibration needs ... Their professional approach to business is first class and at all times their employees are helpful, courteous and easy to deal with ... I would have no hesitation in recommending them to another company."
"Willie McMahon and his team have provided calibration and instrumentation advice to ABEC since 2015, I would have no hesitation in recommending them to any prospective client. We have built a strong relationship during this time and they have become our preferred partner for any calibration requirements on site. They have been professional, friendly and provide excellent customer service and schedule work to suit our production requirements."
"They always work to extremely high standards when on site and all departments are fully satisfied with the service they provide."
"professional reliable service."
"Very efficient service from booking calibrations, work carried out on site and supply of certs"
Ellab Ireland provides calibration services for a wide variety of test and measurement equipment:
Handheld indicators, probes, gauges, thermometers, rtd's, thermocouples.
Gauges, transmitters, valves, switches. We have the capability to calibrate up to 10,000 PSI.
pH & Conductivity Calibration
Effluent meters, handheld meters and controllers.
Metal Detector Verification
We have a full range of certified metal detector test pieces for detector verification and certification.
Agitators, speed controllers, etc.
Calipers, Micrometers, Steel rules, Height gauges, Dial gauges, Pin sets, etc.
Inline flowmeters, tanks load cells, mobile flowmeters.
Handheld indicators, process indicators and controllers.
Mass & Weight Calibration
Weights, balances, bench and large floor scales up to 2500 Kg, load cells, checkweighers.